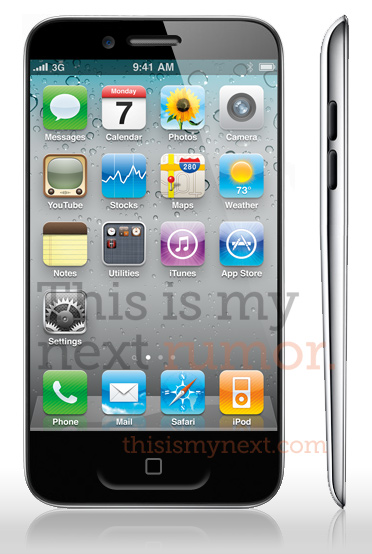 This is according to the ex-Engadget crew at the new "This my Next" website, who whipped up the mockup above to illustrate the various rumors they're hearing.
Apple may be prototyping an iPhone 5 with a tapered design, a larger 3.7-inch screen and a gesture-sensitive Home Button.
New design: Apple is testing several prototypes (we all know this) and one of the leading candidates for the iPhone 5 is thinner than the current iPhone 4 and looks "more like the iPod touch." It has a teardrop shape – thinner at the bottom than the top, like the new MacBook Air.
Gesture-sensitive Home Button: The Home Button will be bigger and will understand a gestures. "Our sources say that gestures are definitely coming in a future version of iOS," says
Larger screen: the screen will go up to 3.7-inches, not 4-inches as rumored. It will keep the current resolution, dropping pixel density goes from 326 to 312, but will still be a Retina Display (it's still above 300ppi).
No Bezel: Screen will be edge-to-edge, occupying the entire front of the iPhone. That means no bezel (or almost no bezel).
Hidden earpiece & mouthpiece: The earpiece and sensors are behind the screen itself.
Inductive charging: It may or may not have wireless inductive charging. Crystal ball is cloudy.
NFC: Likewise it may or may not have NFC.
Global radio chips: It'll be based on Qualcomm's dual GSM/CDMA Gobi chipset, which means it'll 

work

on a ton of GSM and CDMA networks worldwide, most importantly in China.
Joshua Topolsky warns, however, that none of this is set in stone: "Keep in mind that this info isn't fact — we're getting lots of threads from lots of places and trying to make sense of the noise. The versions of devices our sources are seeing could be design prototypes and not production-ready phones. Still, there are strong indications that Apple will surprise a public that's expecting a bump more along the lines of the 3G to 3GS — and this is some insight into where those designs might be headed."
Keep you update as more news come from around the web.